Virtual BCN Challenge 2020: Day 6
Posted by alexgrehyauthor on 19 May, 2020
The Virtual Adventrues of Augmented Reality Indigo Dream (ARID)
Day 6: Saturday 9th May
Well here we are, the last day and, as befits a BCN Challenge crew nearing the finishing line, we were getting really tired. Those of us that have completed the real thing agreed that this event, held over 6 days, was way harder!
1. Outline Cruising Log
FROM
TO
MILES
LOCKS
TIME
IN
TIME
OUT
Bromford Junction (via Spon Lane Locks)
Spon Lane Junction
0.5
3
09:00:00
09:27:00
Spon Lane Junction
Oldbury Locks Junction
0.5
0
09:27:00
09:39:00
Oldbury Locks Junc
Old Loop East
0.25
0
09:39:00
09:45:00
Houghton chem junc
Houghton chem term
0.5
0
09:45:00
09:57:00
Houghton chem term
Houghton chem junc
0.5
0
09:57:00
10:09:00
Oldbury Loop East
Oldbury Loop West
1
0
10:09:00
10:33:00
Old Loop West
Brades Hall Junction
0.6
0
10:33:00
10:47:24
Brades Hall Junction
Tipton Junction
1.5
0
10:47:24
11:23:24
Tipton Junction
Tipton Green Junction
0.5
0
11:23:24
11:35:24
Tipton Green Junc
Watery Lane Junc
0.5
3
11:35:24
12:02:24
Watery Lane Junc
Toll End Junc
1.5
7
12:02:24
13:13:24
Toll End Junction
Tame Valley Junction
0.5
0
13:13:24
13:25:24
Tame Valley Junction
Moorcroft Junction
1
0
13:25:24
13:49:24
Moorcroft Junct (Br btm)
Bradley top Locks Junct
1
9
13:49:24
14:58:24
Bradley Top lk Junc
Bradley Marr Jnc
0.4
0
14:58:24
15:08:00
Bradley Marr Jun
Bradley Marr term
0.5
3
15:08:00
15:35:00
Bradley Marr term
Bradley Marr Jun
0.5
3
15:35:00
16:02:00
Bradley Marr Jnc
Bradley Workshop
0.1
0
16:02:00
16:04:24
2. Detailed Cruising Log
This morning we started at the bottom of Spon Lane locks, nice easy flight of 3 locks if you avoid stirring up the mud! By the top our travel companions needed rest, little did they know that today we do loads of locks!
Historical Snippet: On Tuesday 19th November, the West Bromwich sirens sounded at 6.53pm, the 185th warning. This was the beginning of the West Bromwich Blitz. One local resident recalls his childhood memories when his Dad ran all the way home from Smethwick and the top of Spon Lane was in flames. With the candle factory and the wood factory up there, this made for an explosive combination.
Water supply to the Smethwick summit was a problem, and in 1778, a Boulton and Watt pumping engine was installed at the junction, to pump water back up the top three locks of the flight to the summit. Originally a set of 6 locks, but was reconstructed in 1790 to improve the water flow after the Birmingham & Fazeley Canal was built. The top lock has a split bridge  which allowed horses to cross the canal without having to disconnect the towing rope, which passed through the gap between the two halves of the bridge. This particular example is, however, a 1986 reconstruction. The remaining three locks at Smethwick were duplicated at the same time. The pumping engine at the junction now served no purpose and was removed.
From Spon Lane Junction, half way down the then 6 lock flight, the main line of the canal was continued along the contours, taking a somewhat winding course to Wolverhampton. Water was supplied from reservoirs at Smethwick, by 1774 from Titford Pool, and soon from various mine pumping engines discharging into the canal. An important milestone in the establishment of Black Country industry came when John Wilkinson set up an iron works at Bradley near Bilston. In 1757 he started making iron there by coke-smelting rather than using charcoal. His example was followed by others and iron making spread rapidly across the Black Country. Another important development of the 18th century was the construction of canals to link the Black Country mines industries to the rest of the country. Between 1768 and 1772 a canal was constructed by James Brindley starting in Birmingham through the heart of the Black Country and eventually leading to the Staffordshire and Worcestershire Canal. The Tipton Green Branch was completed around 1805 with 3 locks and a length of quarter of a mile. The Toll End Branch was authorised by Act of Parliament in 1783 (along with the Birmingham and Fazeley Canal, Broadwaters Canal, and several other branches) to provide access to a proposed new coal mine. Work was started from the Broadwaters Canal (now part of the Walsall Canal) but halted in 1784 for eight years, being completed as a closed branch with two locks in 1801. In 1806 it was decided to extend this branch to the Tipton Green Branch with further locks, and in January 1809 the Toll End Communication Canal was completed making the length 1 3/8 miles. In 1829 Thomas Telford's BCN New Main Line (Island Line)cut across the Tipton Green Canal, forming Watery Lane Junction, and creating a de facto Tipton Green Locks Branch of three locks and a Toll End Locks Branch of seven locks. From the later 20th Century Caggy's Boatyard occupied the basin at Watery Lane Junction. The Horseley Ironworks operated their first foundry from a site between the two branches where many iron bridges, including the Engine Arm Aqueduct (1825), two roving bridges at Smethwick Junction (1828) and Galton Bridge, were cast.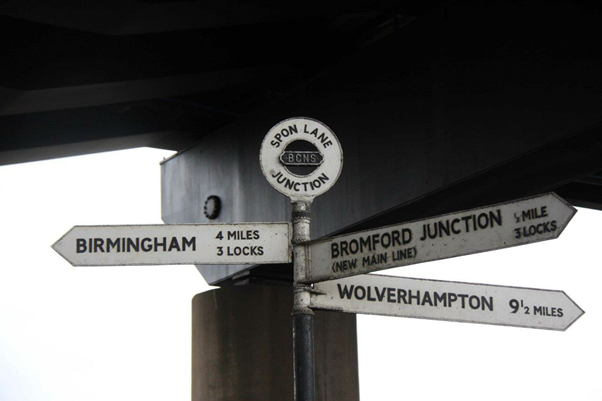 We went past the bottom of Titford without going up!! Yesterday's water shortages put us that bit behind.
.To break up our trip along the Old Main Line, we paused briefly at Tividale Quays, and set the time machine to 2009. We were pleased to see eleven other boats moored there, on their way to the National Rally at Wolverhampton. The event was hosted by Andrew and Frances Phasey, who lived there at the time. Andrew is the new Commodore of St Pancras Cruising Club, and was planning to spend today overseeing (controlling is too rigid a word) the Club's annual cruise on the Thames tideway from Limehouse down to Margaretness and then upstream to Teddington.
The Locks themselves represent a particular stage in the technological development of English Canals in general and The Birmingham Canal Navigations in particular. Both the Rotton Brunt Line and the new locks at Bradley were built on dead straight alignments, ignoring any minor changes in the contour and taking the most time-efficient route. The locks were amongst the last on the BCN to have a single gate at top and bottom, the original Birmingham Canal Locks had double bottom gates as did the last the BCN Company built at Rushall and Perry Barr. The lagoons alongside each lock were a device to maximise water capacity in the short intervening pounds, and finally, the locks themselves are all at one side of the canal, not located midstream as earlier locks were. It is thought that this feature, which is shared by the locks at Oldbury and Perry Barr, was to make subsequent duplication straightforward. Thus restoring the locks allows access to and understanding of a particular phase of canal development.
Later on, we retraced our steps between Toll End Junction and Moorcroft Junction, before turning up the Bradley Arm. It wasn't entirely clear if the scrutineers would notice if we claimed points for these two sections, but we decided honesty was best. To travel up the Bradley Locks, we bravely set our time machine to 2035, confident that by then the restoration would have been completed. We approached the final lock on the flight with some trepidation, as one of the options for the restoration would see it moved to the other side of the site of Bradley lane bridge. Another option involves a new aqueduct being built over the road, or a boat lift, but these seem less practicable than a new swing bridge.
For our last section of canal, we ventured down the Bradley Marr canal, which enabled us to complete our only staircase locks all week. Documentation is poor for this stretch, so there was some argument amongst the crew as to whether we should expect to find side ponds (red before white and all that), or something similar to the pair of locks on the Stourbridge Canal (not a staircase, strictly), or whether the design was similar to that on the Brades Hall branch (where it is possible to flood the lower lock if you are not careful). This debate delayed us for a few minutes, meaning we arrived at the Bradley depot a few minutes after 4pm.
Quick proof that we are moored up at Bradley Workshops…
3. Daily Challenge and 4. From the Galley
This morning I was informed that my crew had complained to the organisers that they were starved and such food as was offered to them was little more than swill. I admit I was a little hurt to find out that the crew had been complaining of starvation on board.  Indigo Dream prides herself on the quality of her catering, even to the extent of having James Martin, celebrity chef cooking on board while we mooched around Brindley Place and the Soho Loop in July 2018.
This particular episode of Great British Adventures was broadcast on 25th February 2019.
Sadly, James Martin was not available at short notice to help with today's challenge, so I used a few of his recipes instead.
In the meanwhile, I got on with these vegetarian recipes from James Martin:
I also baked a batch of Cheesy Chomps (click here for the recipe) for the greyhounds – though they are made with wholesome ingredients and are often eaten by greyhound mums who report that they are like cheesy hobnobs!
Finally, for something sweet, I knocked up a batch of scones and served them up with whipped double cream and home-made jam – the last pot of the jam that I made to commemorate last year's BCN Challenge. I don't know whether the judges are party to the debate on whether the cream or the jam goes first, so I served them in separate pots to suit both Cornish and Devonian sides of the argument.
In case there were any doubt that the gourmet lunch had been prepared today by my own fair hands, I recorded some insructional videos – I only wish I could have included the aroma!
5. Tales from the Geistersammler (Ghost Collector)
I had a busy morning cooking, so I didn't deploy the Geistersammler until later afternoon. Two very familiar figures came into the cabin – they seemed to be having a wrangling argument which I suspected had been going on in the afterlife for quite some time…
"I tell you; it was less expensive and equally beneficial to carry the canal over Smethwick than to tunnel under it…" James Brindley's voice had a weary whining quality.
"Nonsense, man!" Telford replied, with his trademark brusqueness. Your old mainline was little better than a crooked ditch. This great and flourishing town deserved better!"
"How dare you impugn my reputation!" Brindley blustered.
"It's not about you. It's about trade, and industry and making the best of the resources we have. Efficiency, that's the thing!"
"And the cost of your efficiency? I was commissioned to bring the canals to Birmingham, my designs suited the lay of the land and the pockets of the shareholders."
"Aye, the shareholders bought it cheap and paid later. What about all the delays at your accursed Smethwick locks? I won't even mention the basest behaviours they fostered – quarrelling boatmen, fights over who was to enter the locks first and the incessant complaints of the factory owners."
"That's as may be, but my canals reached the very heart and soul of this city, passing by industries left marooned by your bypassing monstrosity."
"Ahem, gentlemen." I interrupted them before Telford could get his oar in again. "That fact is, that now, in 2020, we boaters enjoy both of your canals. Mr Brindley, the twists and turns of your old main line are interesting and tranquil, they allow us to take time to explore the city's hidden past."
Telford humphed dismissively while Brindley preened.
"But Mr Telford, your Main Line is obviously a marvel of engineering, so straight, so deep, so fast…"
"See, your canal is but a bypass, allowing boats to pass through with little regard for the city." Said Brindley triumphantly. "Hah! So, you would associate yourself with these idlers who come to the canals to holiday rather than work, such company suits you well…"
I shook my head and cut the connection to the Geistersammler and wondered how many more centuries the two great engineers would spend in debate…
As I turned away, I felt greyhound leaning against me. I stretched out my hand, but it passed right through Archie's ghost.
"I wondered whether you'd come to visit." I said.
"Oh yes, all the BCN Challenge crews are here." Answered Archie, who had always been very eloquent for a greyhound.
I looked out of the window, Blue and Lou, our crew in 2009, were rolling in the long green grass at Bradley Workshops – they'd been very bored on the Wednesbury Oak Loop as we cruised slowly up the weed-strewn canal, stopping to clear the propeller every five minutes.
I looked around. Ranger T Dawg, crew of 2011, was lying on deck with Lynx. Out of the corner of my eye, I saw Herbie Beanz stealing the ghost of a hot chicken from the kitchen counter.
"How did he get that chicken?" I asked.
"Well, you bought one for Saffy and Alex didn't you!" said Archie smugly.
"But they ate it!" I said.
Archie sighed, "Yes, and now it's a ghost chicken so Herbs can eat it again." There was a clatter as Henry B Beanz managed to open the lid of the bin and rummage noisily in the contents – some things really didn't change, in this life or the next. I heard a dainty huff, Freya, curled up on a nest of dog beds, clearly didn't approve of Henry's uncouth behaviour.
I found a perch on the sofa and Archie cuddled up to me.
"I miss you Archie, I so wanted you to crew for us one more time, but I had a feeling that 2018 would be the last one for you and Henry."
"I'm here at the finish line, that's what's important." He said, "and we did train Harmony to be the crew of the future."
"That you did, and you trained Alex too, though Saffy's had to learn all by herself – it's quite possible that she might be better at digging canals than cruising on them…
"But Archie, how is it you're all here? I turned the Geistersammler off ages ago."
Archie nudged my chest with his nose. "We're all here, in the heart and soul of Indigo Dream. We don't need a machine to visit, we never really went away."
Harmony, Alex and Saffy greyhounds stepped on deck after being out for a walk at the finish line. Our ghostly visitors vanished, but I could still feel them nearby, forever and always…